Question: What happens when you take two children with parents who are non-practicing Jews and put them in Kindergarten at a Christian-based school?
Answer: They come home asking things like, "Mommy,
why
did Jesus die on the cross?" And you pause for a moment with shock, and then, in a most inappropriate way reply "He died for you honey, he died for you." Judge me if you like, but what's a mom with no good answers to do? What would Jesus do?
Our preschool teacher in Florida once told me, at holiday time the Christian kids in class always go for coloring a menorah or dreidel, and the Jewish kids head straight for the Christmas trees. Even as small children, it seems we always want what we don't have.
This morning at a cafe, a couple sat on a bench outside the restaurant pointing and laughing hysterically at a book. Upon closer observation, I could see they were reading
The Atheists Bible,
so for obvious reasons I felt it necessary to capture the moment.
Yeah, I'm super-sly with a flashless camera. Unfortunately my photo doesn't really capture them cracking up very well.
And here's a better look at the source of their hysterics.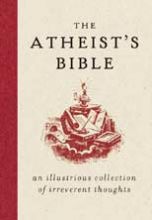 And now I realize it isn't actually a bible for atheists, but a collection of quotes challenging organized religion. I think I need a copy, I know the PTA would
not
approve.